We all know the importance of a healthy diet and exercise, but what about that pesky extra fat that just doesn't go away no matter what you do?
Excess fat in some areas of the body can seem nearly impossible to target with exercise; your efforts can feel frustrating and futile. CoolSculpting® is a non-invasive, comfortable, effective treatment to target unwanted, stubborn fat - especially in problem areas like love handles, bra-line fat, arm flab, and tummy bulges. Our patients find great success with CoolSculpting and the difference in their fatty areas before and after CoolSculpting treatments is incredible.
Explore the stories of several of our patients and their "before and after" photographs below, and learn about how CoolSculpting helped them make a positive change. At Cosmedica we love seeing patients come in for CoolSculpting treatments and leave with renewed confidence, having said goodbye to problem fat once and for all.
Patient 1 is 62 years old and came in for abdomen and lower side torso CoolSculpting. You can see a noticeable difference in her fat deposits, especially below the belly button and along her sides or "love handles." This patient came in for eight treatments which were done in one session. The photograph on the right was taken three months after treatment.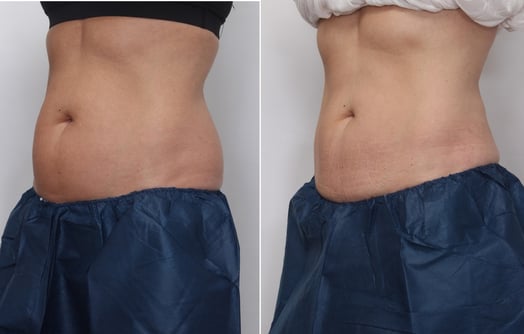 Patient 2 is a 72-year-old woman who came in for a CoolSculpting treatment along the submental/chin area. This is an area that many people are concerned about, especially since our skin loses elasticity as we age. The result here is natural and improves the overall balance of the face when viewed before and after. This treatment was done in one session and the photograph on the right was taken three months after treatment.

Patient 3 is a 52-year-old male who came in for gynecomastia treatments. Many men struggle with excess fat on the pectoral muscle and the appearance of male breasts. CoolSculpting is a great way to target this difficult fat without commiting to surgical procedures. There were 10 treatments performed between the before and after photos below, which took place over three sessions spaced three months apart. As you can see, CoolSculpting was very effective in this case as well. This patient chose to forgo the recovery time and visible scars that often accompany surgical procedures. With CoolSculpting, he achieved noticeable positive results with no downtime or interruption to his everyday life.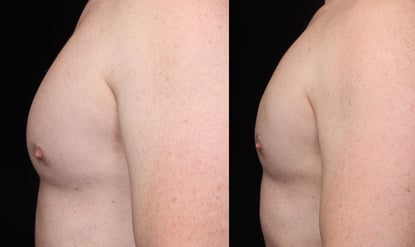 Schedule a consultation today and let's discuss how CoolSculpting can make a difference in your life.
*DISCLAIMER: Individual outcomes, results and number of treatments recommended may vary based on individual patient needs, medical history, and circumstances. Cosmedica Laser Centre cannot guarantee exact or permanent results or cures.